Business
Why Companies Should Use Custom Printed Boxes to Pack their Products
What is Custom Printed Boxes
Custom Printed Boxes: A box must be functional to ensure that your products arrive in good order. However, nowadays, a box is more than the capacity of a container for storing products.
It's the way people see your brand and whether or not they'll recommend your business to their friends. So, don't lose this chance. Instead, impress your customers with a custom printed boxes.
Attract consumers with personalized packaging
The e-commerce sector has grown exponentially in recent times, increasing more people purchasing items online.
Take a look at these figures:
92% of Americans (with internet access) have made purchases on the internet.
The global retail e-commerce market is projected to be $5.5 trillion by 2023.
There are many possibilities for your company to join the e-commerce growth train.
As individuals receive more packages, their expectations are also going up. So it's not a good idea to have to see a poor-looking package land on their doorsteps.
Opening a package is now a part of the buying procedure.
It's typically one of the very first experiences your customers encounter in your business. For online-first brands, this could represent the first instance customers can fully feel your brand offline.
If you want your company to stand out, you must go that extra mile and inject some flair into your product packaging.
Represent the persona of your company
Your custom printed boxes have to be distinctive and represent your company's persona, so you'll need to be able to spend time creating the perfect design.
This box is your chance to create the right impression and be noticed.
It is essential to include your branding colors and your logo, slogan, or even your website's address. The box needs to be noticeable. If a customer is looking at it, they need to identify the source.
Your customized box should look professional. It shouldn't appear as a third grader made it. Don't be too extravagant with wild colors or crazy fonts unless this sort of visual chaos is a reflection of your business.
But even if you feel you have zero design skills, don't give up. You have plenty of choices there. Many custom box manufacturers offer online design tools that can assist you in creating the perfect design.
Perhaps you feel more at ease outsourcing your design requirements.
Look into freelance websites, like Upwork, Freelancer, or Design99. Another option is to find an art student at your local community college. You can also create your design by using websites such as Fotoram.
So go out and pick a stunning style for your box.
Advertising by packaging
It is not a good idea to let a chance to market be missed – particularly one that requires only a little effort.
What if I said that a gorgeous and easily identifiable box with branding could help to enhance the image of your business. There's no surprise here; it could.
Your customized box will draw the attention of all who look at the box, not only the person who purchased it from you. Even casual observers such as a person walking past your home or looking at the package carried by the delivery driver are likely to see your business' logo on the box.
If you're lucky enough, your idea can entice people to look into your business.
I have seen it happen to me.
I've seen exciting boxes on my neighbors' porches and wondered what's inside. I've even Googled some businesses.
Of course, marketing via packaging is not only for the benefit of a casual observer.
Customized packaging can help your customers feel like they're part of something special. You want to give them a personalized experience to build a relationship with your clients, and they'll come back to purchase from you and recommend your business to family and friends.
If you're lucky, your customers may promote your customized packaging via social media, increasing your reach. A study revealed the following: 37 percent of customers who purchased more than $200 posted a photo on social media based on the packaging of an item.
This is a good marketing technique.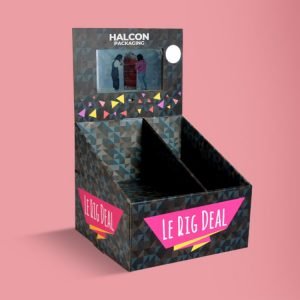 Some perfect packaging examples
Okay, now you recognize the significance of customized boxes as a tool for marketing.
Let's look at some instances of businesses creating excitement and attracting customers thanks to their unique customized boxes.
The first comes Gino Sticks. This catering company is focused on serving delicious food items such as artisanal cheeses and meats from the deli. The shipping container is covered in blue and red inks and features the name of the business address, address, telephone number, and website. In addition, the box is decorated with food-related words, including bacon pickles, gelato, and pickles. Hot coffee, and I'm becoming hungry just by looking at it.
Instacart stands out from the crowd of the online food delivery market.
The company distributes its products inside an insulated container to ensure freshness. It also claims the fact that the packaging is recycled and recyclable. However, the packaging goes one step further and advertises its name with its attractive style.
Instacart's boxes are unique in designs on every side.
Every aspect confirms the company's values and dedication to providing healthy, organic meals.
There's PetPros, the company that's mission is to improve the overall health and wellbeing of dogs through the use of all-natural ingredients.
Every month, PetPros can send its customers their subscription boxes packed with serums and treats designed to help combat issues such as anxiety, pain, inflammation, nausea, and vomiting within your pet.
The company loves dogs, and that's evident in its products.
On the front, they are decorate with their logo, one of their dogs' faces in the form of a heart. The organic nature of the business is further enhance by the utilization of natural colors in the boxes.
The container you place your items in is likely to be note. Whether it will leave an impression, either positive or negative.
If you're looking to boost sales and differentiate yourself from your competition – you should not make your packaging an added-on.