Technology
Outlook PST File Not Opening? Access & Repair Your Data Files
If you're an Outlook user then sometimes you must have faced scenarios of various errors. Outlook PST file not opening is one such error that troubles users a lot. It is very frustrating when you need to access your data files but you can't. That's because of several reasons that we are going to discuss.
Moreover, the ideal solutions to open these files in Outlook are also mentioned here. Both the manual & automated solutions are covered & users can select them as per their requirements and tool's features.
First, we need to know the reasons why users face this error. Then only we will look at the solutions to open these files along with the features & drawbacks. Evidently, it can provide useful insight to users into the decision of selecting the ideal solution.
Possible Reasons for Outlook Data File Not Opening In System
There are a number of reasons why users have to face this issue. All the major reasons are mentioned below in order to show you the possibilities of why this error occurs.
When Microsoft crashes, users will get this error & can't access their data files.

If the PST file is already in use (background), there are chances it shows an error in opening.

Opting for a false method to import the PST files can cause ethos error as several users reported.

The corruption of PST files is the most reason why users get difficulties in opening their Outlook data files.

Windows infected with viruses or malware. Hacking can be another reason why users go through such a complex procedure.

When your PST file crosses the maximum limit of data size, it may cause errors in the opening. Try to remove duplicate data items & make space.
Among all of the reasons that we pointed out, corruption of PST files is the most common one. Therefore, below are the methods mentioned to repair the file corruption.
Fix Outlook PST File Not Opening Issue Manually
Let's start with the manual method first & then we will look at the automated method. The manual method involves the ScanPST wizard. This is an inbuilt tool that Outlook provides. However, you may have to struggle a little to find its location in your system.
To reduce your efforts, below we've mentioned the location path where you can find this ScanPST .exe in your system.
After finding the .exe file in your system, follow the below steps as shown in the respective images carefully
Step-1. Click the Browse button to search for the corrupted data file.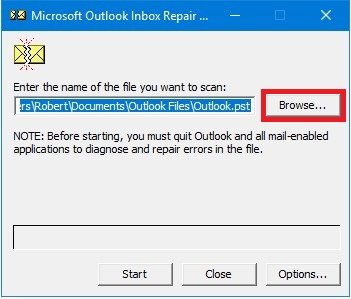 Step-2. Click on the Start button to scan the corruption of the files.
Step-3. After scanning, Hit the Repair button to repair the files from corruption.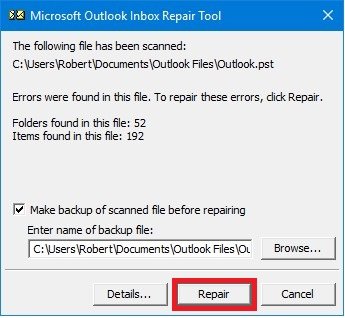 Step-4. At last, Hit the Ok button & end the ScanPST window. 
Automated Method to Counter All the Challenges
After learning the manual method to solving Outlook PST file not opening error, it's time to simply make the procedure easy & provide users with a simplified solution. The automated method includes the Mircsosoft Outlook PST Repair Tool in use.
This tool is the most advanced to date as per industry experts. Moreover, a lot of users praise it for being the most simplified yet powerful utility to repair corrupted files in Outlook. Download it & copy the step by step tutorial mentioned below to start the task.
Step-1. Click on the Add File button to add PST files having corrupted data files.
Step-2. Quick & Advanced Scan option scans the corruption, select one of them.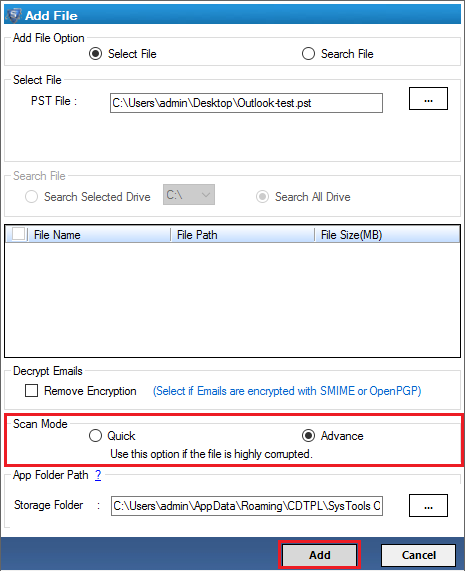 Step-3. Now just Select the Corrupted File to repair Highlighted in the Red color.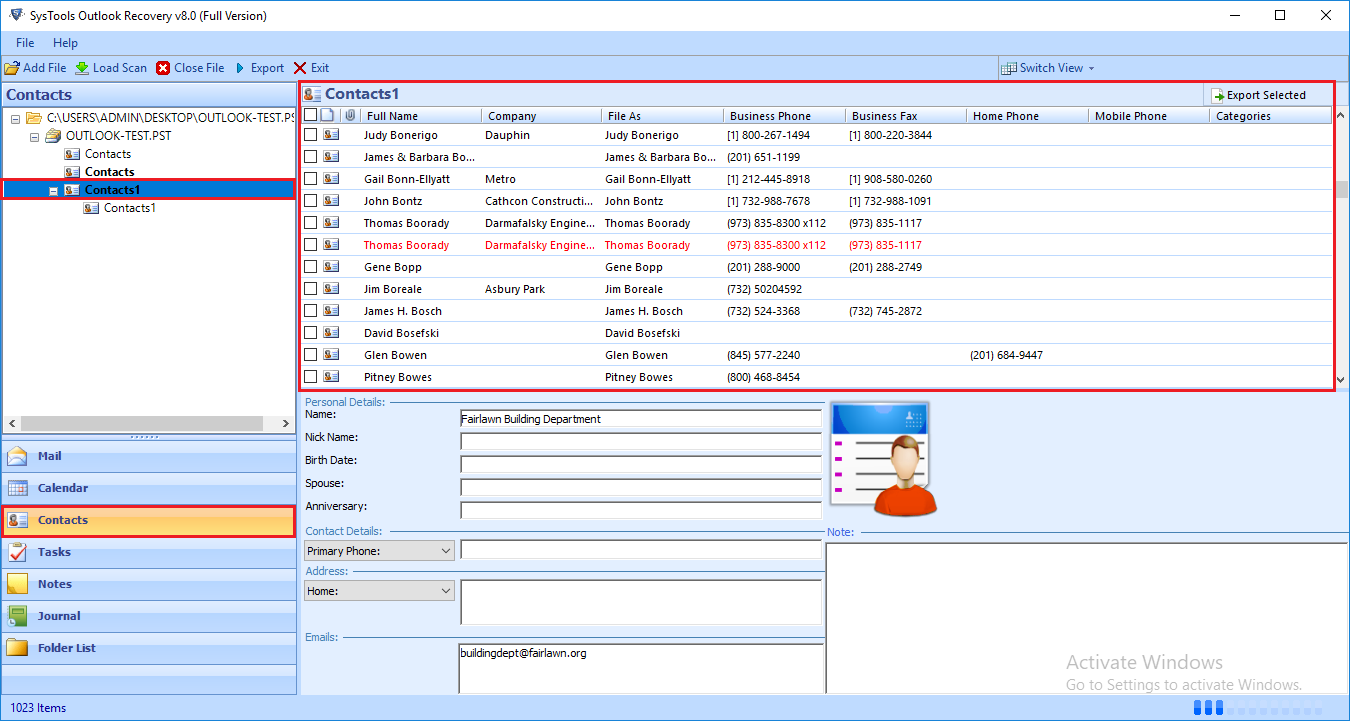 Step-4. Set Resultant File Format & the path of Destination Folder in the system.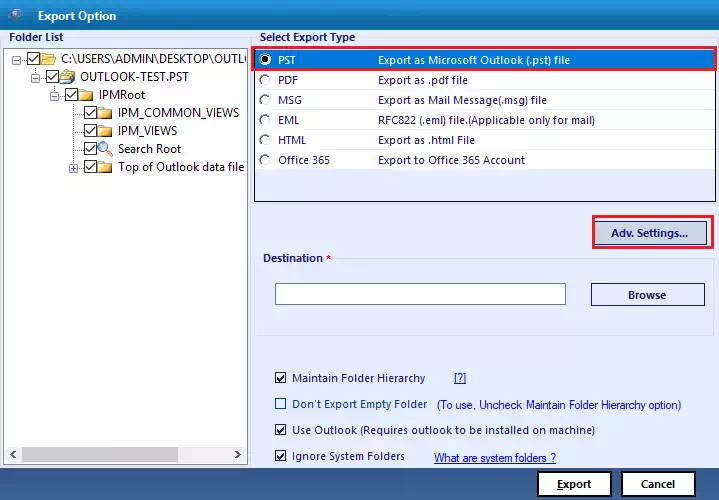 Step-5. Hit the Export button to begin the operation. Your files will be saved automatically.
After the successful completion of the operation, this software will provide you with a status report. The report can be beneficial for users for further analysis.
Features & Hurdles That Come Along with these Methods
In this section, we are going to have a look at the benefits & drawbacks of the methods we just discussed. This way, we can easily figure out which method & tool can work best for us.
As planning is the foundation of any project, we need to make a wise decision at the starting so that we can get the desired results in the end. Other Outlook PST File Not Opening will not be fixed.
Also Read: How to Convert NSF Files to PST Files – An Overview
ScanPST Method
Pros
It is an open-source utility & anybody can use it without spending a single penny.

ScanPST .exe file is already present in your Outlook data file. There's no need for users to download it.
Cons
It does not have advanced filters & other features to reduce users' efforts, resources & time.

It has a size limitation of 2GB. This means it is not capable of repairing files more than 2GB in size.

Even if the file size is less than 2GB but close to it, the software crashes or gets stuck in between for hours.

ScanPST can only repair a minor level of corruption. It's not capable of fixing the heavily corrupted files. Evidently, it's not safe.

This manual method can not recover the lost data items. It can only repair them &  that too only till a certain level.

If users' data files are encrypted then this utility will definitely fail in recovering such data& result in the Outlook data file not opening even after practice.
Automated Tool Method
Pros
Repairs emails, contacts, calendars, tasks, & journals.

Multiple filters are present here for selective repair.

Counter all limitations of the manual method.

Repairs SMIME & OpenPGP encrypted files.

Allow naming convention feature to users.
Cons
This solution is not an open-source solution. Therefore, users need to purchase it.
The Ending Note
Some errors usually trouble a little & are not that irritating. Whereas this can easily spoil users' experience with the platform & create emergency situations as users' data may be sensitive & crucial. Hence, users need to make wise decisions as they may affect the end results.
Without the proper technical knowledge & expert assistance, users may end up in even a worse situation. This is why to solve Outlook PST file not opening issue, the automated method can be an ideal solution. It is capable of all the advanced features & also keeps the user data safe & secure.
Also Read: OneDrive Migration Best Practices -Everything You Need to Know