General
Technology
7 Common Threats of Using Non-Secure Apps
The following tips highlight the dangers of using non-secure applications on your mobile device.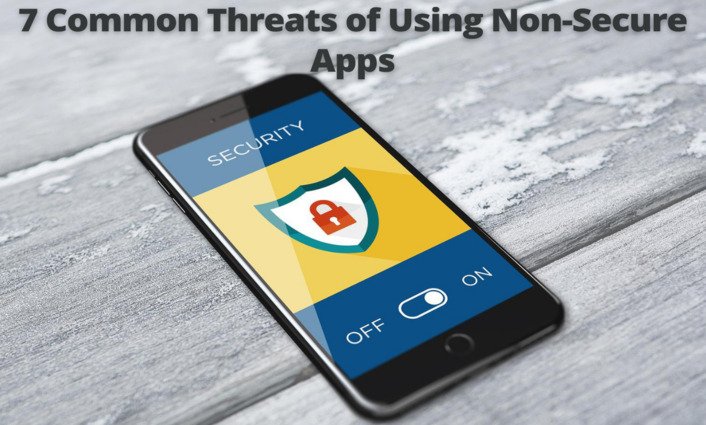 Today, we offer apps for every business need. It is critical for businesses nowadays to invest in the mode of mobile application in order to reach the widest possible audience. However, many people abuse this zone as well. This is why we are here to help you understand the hazards associated with non-secure mobile applications.
We are all aware of how tough it is to remain away from our phones. However, we must guarantee that the programmes we use are completely safe. If there are any non-secure apps, it can lead to a number of issues in the future. If you're wondering what the risks associated with non-secure mobile applications are, we're here to assist.
The following tips highlight the dangers of using non-secure applications on your mobile device.
Malware insertion:
The first and most serious hazard posed by non-secure applications is the installation of malware on your device. Malware is essentially harmful software that is installed on its own whenever there is a data breach. With this procedure, there is a great risk of losing all of the information on the device. This is why it is critical to stay clear of insecure applications at all costs.
YOU MIGHT ALSO LIKE:
Storage of data:
Another significant issue you may have with your application is non-secure or needless data kept on your device. It observed that developers sometimes rely on storage for data, this may also lead to security problems. You may secure your data storage by configuring an extra degree of protection supplied by the operating system itself through encryption. This is accomplished by utilising specialised devices or hardware, such as Secure Enclave, which is utilised on iOS systems. It can assist you in keeping your data safe and secure.
Third-Party Code:
When it comes to getting the programme produced, it has been observed that security developers avoid using third-party code. However, harmful code can be inserted in a variety of ways. You can do the same thing by creating code that isn't absolutely essential. If the code is not utilised at all, it may likely become a major security risk. Another method for incorporating harmful code is to use third-party libraries. We all know how useful it is to use these libraries, but it also carries a risk. It can be a doorway to a number of vulnerabilities and threats that can cause significant damage.
Authentication Procedure:
Today, login information is not the only type of communication that may necessitate encryption. It is critical that the entire authentication method is strongly secured so that no one else without authorisation may read the data. However, non-secure programmes lack such protection, and as a result, there is a greater risk of you losing your data to a hacker. This is why you should not install software that is not available on the Google Play or iOS app stores.
Permissions:
You may notice that the programmes often request permissions. It is critical that you do not grant permissions to applications that are not trustworthy. You must investigate the permissions they are requesting and the reasons for them. However, if you grant them authorization, they will gain access to your built-in apps, which will almost surely result in a data breach problem. Whether they are requesting access to a place, a camera, or even your contact information, be sure you understand why they are doing so. Then only you must have access to all of them.
Security at the Transport Layer:
The non-secure programme has a transport layer that hackers may easily exploit. When it comes to the transport layer, it is the path that data will take to go from one point to another. This method must be safeguarded with sufficient encryption to guarantee that the data is not accessed by unauthorised parties. If the application is not secure, the transport layer will be vulnerable as well. This can undoubtedly complicate matters and lead to a data breach-like situation.
Weak server-side controls:
Another danger associated with a non-secure mobile application is a lack of or removal of server-side restrictions. We are all aware that communication takes place via a server, which has long been favoured by hackers. They frequently act as a middleman, attempting to acquire communication data for later use. As a result, it is critical that you remove non-secure programmes off your device since they can attract a large number of hackers and cause you to suffer from a data breach-like situation.
Final Thoughts
These are the most typical threats that you may encounter when utilising insecure mobile applications. It is critical that you only download software from the Google Play Store or the Apple Store so that you can be confident in the security of the applications and that there will be no data breaches. Because your mobile device contains sensitive information, it is critical that you only use secure and safe applications.