Technology
How Much Does It Cost to Hire Django Developers in 2022?
Get an Idea of Cost for Django Development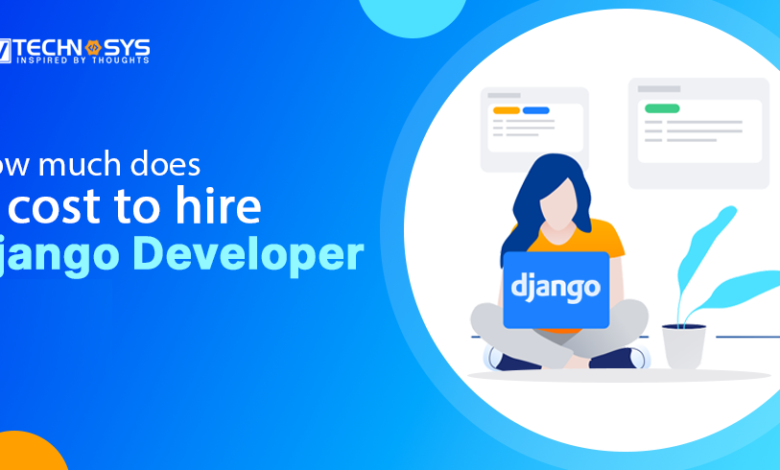 Python is such a fantastic programming language that facilitates the developers to create trending applications using modern concepts such as Artificial Intelligence, Machine Learning, and Natural Language Processing.
It is an open-source web framework, and when it comes to developing scalable apps, it is one of the first choices of global businesses. If you are also looking for developing an ultra-modern app, the best idea is to hire Django Developers from the foremost mobile app development company.
Instead of going deep into the blog, let's check out some basic information about Django first.
What is Django?
There are several Python frameworks in which Django is one of the best frameworks available now. It empowers the developers for clean & dynamic development of professional web apps.
An expert can write the code to shape the web application without hassle. Active community, supported by experts, free & open-source framework, and compatible with modern web development tools make it most favorable for web development.
Its key feature is like –
Fast Development
Django is designed to be built for faster web app development. It works like there is no need to reinvent the wheel; the developers can develop the code with their ease.
Secure Applications
In terms of providing security to the applications, Django works tremendously. This framework has a mechanism that helps developers avoid common mistakes that can temper the web app's security.
Scalability
Scalability is one of the best advantages that the Django framework promises. It facilitates the future expansion of a web app without any issue.
Bundled Toolbox
One exciting fact is that whatever tools are needed to develop a professional web app are already bundled in the framework.
Versatility
Django works fantastic for developing enterprise solutions to the CMS development or from social media web apps to the development of scientific computing apps.
What are the Factors That Affect The Cost to Hire Django Developers
Before you proceed to know about the cost to Django developers for hire, first, you need to know about the influential factors that affect the cost.
Project Size
It is one of the most influential factors that can affect the cost of hiring Django developers. Small-size projects can be developed with the help of a small team, but if the project size is more, then you need a team of experts.
Features
Feature's implementation also affects the cost of hiring developers. The point is the inclusion of more features can increase the size of the app, and you need an appropriate team for it.
Experience
For developing business-oriented applications, you need experienced developers. Usually, the experienced developers remain costlier than the less experienced developers. But it is worth hiring them.
Complexity
The complexity of the app is one of the influential factors in the hiring cost of Django developers. More complex apps require a large team size, so the cost is accordingly.
The Cost to Hire Django Developers  
Now, here comes the cost of hiring Django developers. Usually, you can hire the developers in three following ways-
Full-Time: full-time hiring developers refer to hiring dedicated developers who will work only for you. They will remain available for 8hrs/day, and the timeline will be based on the project complexity.
Part-Time: part-time hiring means that the developers will work part-time for you, such as 4hrs/day.
Hourly- Basis: it refers to the hiring of developers on an hourly basis, which means you have to pay the cost on the basis of total working hours. For your information, the hourly rate of hiring Django developers ranges in-between $30-$60 per hour. It can be more that depends on the expertise of developers or web app development company you will choose for your project.
What Are The Points You Need To Consider While Hiring Django Developers For Hire?
There are some key points you need to consider while hiring Django developers. Although taking care of these points may take your time, it is an investment to add worth to your project.
Goal Identification: first, you need to identify your goals and what kind of web app you want to develop.
Features & Functionalities: Once you have done with goal identification, you need to identify the features and functionalities you need to include in your app.
Budget Requirement: You also need to plan the budget that how much you can spend for the app development.
Portfolio & Projects Done: Here, you need to check the developers you want to hire what kind of projects they have done. It will give you an idea that do they have experience in developing apps similar to your idea.
Feedback & Ratings: Checking about the feedback and ratings is such a nice idea. It will help you to know about that what others think about them.
Interview: The last and final step is to interview the developers to check do they have real potential or not to develop your app.
Wrapping It Up!
If you are looking to develop a web app for your business, then Django is the best option, known as one of the best Python frameworks.
Here you need to hire experienced Django developers. You can refer to this blog to have an idea of what it costs to hire Django developers in 2022 and what points you need to consider while hiring.