Technology
How Legal Technology is Empowering the Litigation Ecosystem
5 Legal Technology Types & their Benefits
AI & Chatbots
Blockchain (smart contracts)
Automation
Embedded Software (ES)
Cloud Solutions
Custom Legal Management Software Development
Case Management
Legal Document Management
Billing Software Solutions
Contact Management (CRM)
Accounting
Calendar & Events
Task Management
Insights and Analytics
Mobile Applications
A Digital Transformation with Legal Services Technology
Technology and the legal sector didn't always go hand in hand, until the Great Recession of 2008. For law firms, this finance crisis served as a shift into the modern age as clients called for more personal, swift experiences.
Then came the Covid-19 pandemic. A shift that made law firms question their business plans and how tech could help. Not only with getting used to remote working but also new client demands and continued business growth.
A technological foundation is vital for law firms, and legal ecosystems are being transformed by new software, platforms, and communications solutions.
On an upward trend, the law and tech startup market is expected to grow at a CAGR of 28%. By 2025, its revenue is projected to be $2.5 billion.
This blog explores legal tech and how it can empower your business's ecosystem.
5 Legal Technology Types & Their Benefits
AI & Chatbots
AI is predicted to speed up contract review process by 20-90%. And by 2026, the AI legal tech market is expected to generate over $37.8 million (with a CAGR of almost 36%).
An automated service, chatbots can trim global business costs by more than $8 billion a year. (It's not surprising that 80% of businesses want chatbots implemented).
Offering an approachable interface, they can answer basic FAQs (via machine learning/AI) – saving time and improving CXs and internal communications.
Chatbots can also help carry out various administrative and HR related tasks in any legal organization.
Blockchain
A decentralized database, blockchain stores data in time stamped blocks. These are connected via chains (hence the name), making it ideal for transparency and building client trust.
Within blockchains, smart contracts can insert programming code onto certain blocks and mainly the internal blockchain. Allowing for seamless support and execution of contracts (the smart contract code sets rules, obligations, and benefits).
A smart contract automatically executes after a specific trigger. In the law sector, smart contracts can be applied to a home rental agreement and where the smart contract controls the entrance of an apartment. Also, refusing entry if the tenant fails to pay the amount agreed with the other party (for instance, the landlord or state).
Automation
Preparing cases requires sifting through multiple documents for specific and relevant information. This evidence can be spread across emails, mobile devices, database archives, or IoT devices. Talk about a headache.
Custom analytics automation creates a streamlined process by erasing irrelevant documents with keyword and phrase look up. For instance, if a lawyer was looking for a set case set in a certain place and time, they can input the place name and date to hone in on relevant documents.
Automation transforms business models and contributes to economic growth. And according to IBM, the use of automation AI has cut the total time lawyers spend on analyzing trademark search results by 50%.
Embedded Software (ES)
Generic online systems require users to visit a website and search for content. But with an ES (Embedded Software), results are automatically generated by actions of the software.
The main selling point of ES software is that it allows users to store, locate, and manage all documents from a central document database.
ES comes in many forms, such as security cameras, work laptops, etc. These are ideal solutions as they are cost efficient, reliable, robust, and secure.
Cloud Solutions
Cloud based solutions offer a robust backup system with reliable and advanced security. Using cloud management tools, tasks can be completed without human action. This includes servers, managing security, code, and backing up data.
Ensuring great performance, law firms can benefit from smooth activities related to cloud computing as it relieves their IT team of repetitive tasks such as storing and accessing (for auditing purposes or as dictated by policies).
Allowing for real time updates and changes, cloud automation ensures that back end process run smoothly. It can even run workloads in a cloud environment rather than on premise, saving on budget and resources.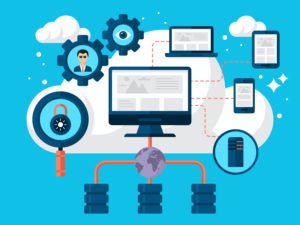 Custom Legal Management Software Development
Case Management
Utilized for stress free processing, case management solutions support complex process that require both human and computer input. This can be anything from a complaint to a claim.
Legal Document Management
The primary purpose of this solution is to allow lawyers and legal professionals to store, organize, and easily access documents. It increases overall productivity by ensuring legal documents and data are easy to find, edit, access, and share.
Billing Software
A legal billing software solution helps your firm become more efficient by automating the long task of organizing & distributing bills, tracking expenses, and organizing online payments.
This solution is needed as research found many firms collect 1.5 hours of billed work for an 8-hour work day. Leaving 6 hours of unaccounted and unbillable time lost.
Contact Management (CRM)
Used primarily to break silo barriers, CRM is the solution to the demand for client focused experiences. Its user friendly design accesses from your mobile or outlook/Gmail.
Automating back end process, this central process collects, stores, and analyzes data non stop for insights and 24hr back end process.
Accounting
With a custom improvement, your accounting solution can prevent overdrafts, tie entries to key matters and prevent the joining of firm and client funds, and have custom client ledgers (even for pooled accounts).
Calendar & Events
With the use of calendar and events management. Your firm can efficiently manage meetings, invites, events, and client & internal communications with an organized solution.
Task Management
Task management solutions can be changed so lawyers can track their hours and tasks using a timer or logged entry feature. This organizes tasks and lets lawyers update the status of each task.
Insights and Analytics
Building the ultimate business team and legal data can be used for a simple and quick hiring process. Business firms can even this solution to decide their team.
Mobile Applications
Custom created apps can significantly improve CXs by offering seamless network in a fast world. Legal professionals can even build case lifecycles, give tasks, make notes, and track clients.
A recent study found that 80% of lawyers take a smart phone into court with them for evidence and document access (35%), online research (30%), email, presentations (28%).
A Digital Transformation with Legal Services Technology
The benefits discussed above are worth noting as legal management software development has a lot to offer legal ecosystems. But, as with most tech, it's at its finest when customized.
Businesses willing to take this big step will stay ahead of their competition. A custom developer will do more than just improve their legal system; they'll also target the tech to the business's goals, hurdles, and identity.
In fact, 67% of chief legal officers see tech as the biggest driver of performance within the legal branch. Without upgrading to a structure legal ecosystem, firms will be reducing their funds, reputation, and time to their aged ways. This digital change will make sure that your firm stands out in the growing and always cut throat legal industry.