Technology
How to Move Outlook Emails to Google Workspace?
Summary: Are you a Outlook users and wish to transfer your mailbox data to a webmail account? If yes, then you have the best option to move Outlook emails to Google Workspace webmail account. Read the complete article and import PST top Google Workspace account.
G Suite (now Google Workspace) is becoming increasingly popular, and many desktop email clients, such as Microsoft Outlook, are eager to make the switch. The following are some of the most appealing features of the G Suite platform for users who are driving this trend.
Advanced data security solutions on the cloud platform
A large number of add-ons and connectors are available.
Cost-efficient
Email service that is dependable
Labelling, filtering, and data organising that is more efficient
Method to Move Outlook PST to Google Workspace Account
You can perform the transferring process in two ways, either manually or using an expert solution. These methods we will discuss in upcoming blog sections. Without any delay, let's dive in and directly discuss different ways to move Outlook emails to Google Workspace account.
Method1. Native Way to Transfer Outlook PST to Google Workspace
Users may migrate emails from Outlook to G Suite Gmail account utilising IMAP account settings in Microsoft Outlook. Here's how it's done:
1. Open Outlook on your computer.
2. Go to File>Add Account and fill in the required information.
3. Type in the email address associated with your G Suite account. To add an account, click Connect.
4. Then, under Sign-in, enter the relevant password. Done is the final option.
5. You've successfully added the account.
6. You may now create a new folder in your Gmail account and copy the relevant Outlook folder (mostly the inbox) by right-clicking the folder and selecting Copy folder.
7. Expand and navigate to the Gmail mailbox, right-click the inbox folder, and choose Paste folder from the drop-down menu.
8. Wait for the copies of the emails to arrive in your inbox.
9. Sign in to your Gmail account separately to see whether the emails are available there.
Method 2: Transfer with Google Migration Tool (G Suite Migration for Microsoft Outlook)
GSSMO, or G Suite Migration for Microsoft Outlook, is a built-in service or utility from Microsoft that allows you to migrate Outlook material to a G Suite account through a PST file.
To finish the data migration, download the GSSMO utility from this link, install it, and then follow the instructions.
1. Open the Google Apps Migration for Microsoft Outlook programme by searching for it in the search taskbar.
2. Enter the email address associated with your G Suite account and select the Continue option.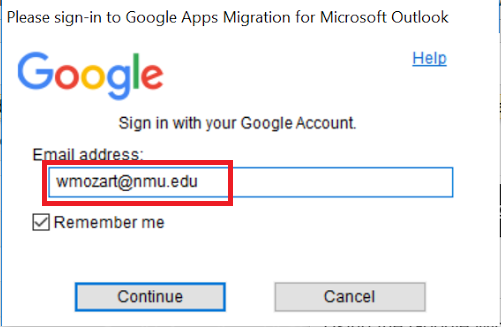 3. To handle the Google products, click Allow on the next page's bottom.
4. A notice stating "Authorization has been given successfully" will be created. Please switch to your programme." On the right-hand side of the taskbar, click the G Suite symbol. The transfer to Google Apps is now complete.
5. On the User Profile screen, select the From PST Files option.
6. Then, from your system Documents folder or another place, choose the Outlook PST file and click Open to add it.
7. After you've uploaded the PST file, pick other migration settings and click Next to proceed.
8. To relocate the data, pick the emails, contacts, and calendar choices, as well as the junk mail and deleted things ticks. If you'd like, you may add a date range filter before clicking Migrate to begin the conversion.
9. The process of migrating will begin. Keep an eye on the files that are currently being worked on and wait for them to be finished.
Done! Here you move Outlook emails to Google Workspace account using the native solution.
Limitations With Manual Method
The manual options mentioned above have several drawbacks or limits that influence the speed, performance, and data quality of the transfer process. Take a look at some of the samples that have been provided.
1. When using the Outlook integrated features & choices approach, customers must join their G Suite Gmail account to Outlook, which might fail owing to proxy servers, service account constraints, or the movement of contacts and calendars.
2. Google Migration Program is useful for consumers, but it takes technical expertise to download the needed tool according to the system requirements, as well as a fast internet connection.
3. Running command lines to transfer Outlook data to a G Suite account is a technical activity that must be performed with care to minimise the human mistake.
4. Outlook synchronisation with G Suite has the drawback of any data deletion from one platform being mirrored on the other.
Method 3: Directly Move Outlook Emails to Google Workspace Account
Get complete relief from the above-mentioned difficulties of native Outlook to G Suite migration solutions by using a smart and efficient Tool. SysConverter for PST tool, which is a professional tool for automatic transfer of Outlook mailbox content to G Suite account with advanced options, filter integrations, and full support for all versions.
Follow the given instructions to save Outlook PST emails into Google Workspace account –
1. Download and install SysConverter for PST on your Windows OS system.
2. Select Open >> Email Data File >> PST File >> Select File from Folder.
3. Click on Export and choose the IMAP option.
4. At last, enter your Google Workspace email id and password, then click on the Save button.
Done! Here completes the process, now you can access your Outlook emails into G Suite account without any hassle.
Conclusion
There are several reasons why a user might wish to move their Outlook emails to G Suite. You might lose a lot of data if you don't have a specialised migration strategy in place. Try the remedy mentioned in this article to get rid of this. There are no mistakes in it at all. Furthermore, the sample version can assist you in testing it for free. I hope you found this post to be informative and entertaining.
Also Read: Convert PST File to MBOX