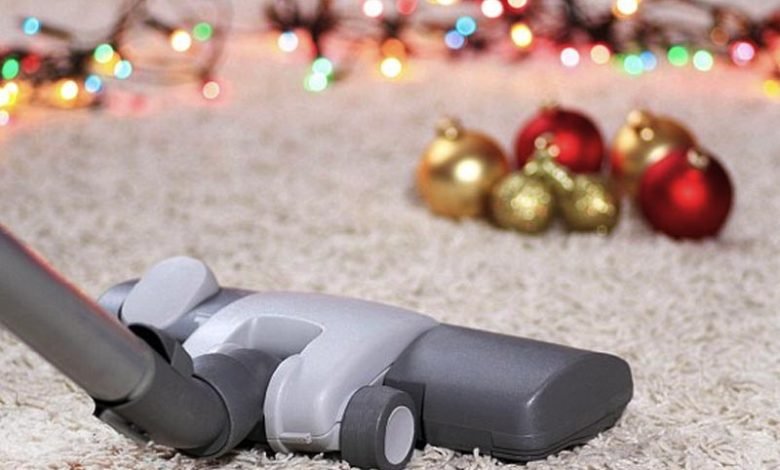 The holiday season brings a wonderful time to plan parties, celebrations, special meals, and other special gatherings with family and friends. Possibly, you might have a different perspective if you are hosting these festive dinners and parties. Once the party is over and your very last guest is on their way home, you are left with an untidy floor. Fortunately, there are some easy carpet cleaning tips you can consider to clean your carpeted floor even after ending up with the most chaotic holiday party.
Carpet Cleaning Tips During Christmas Celebration
The holiday season comes with various things. Seamlessly a constantly revolving door for guests is one of the things and could be a huge hiccup. The more the guests visit your home, the more messes you will probably have to clean up. Indeed, it is worth the effort to spend a wonderful time with people we love. But, keep an eye out! Holidays come with many cleaning ups to handle. Of all the messy places, carpets are poised to take the first spill and spot.
Every single foot, food, and festivities can do a number on your Carpet. But, you can't wait to clean the messes off your Carpet after all the fun is over. Here in this guide, we will have the best tips for carpet cleaning before and during the Christmas celebration.
Importance of Carpet Cleaning Pre-Christmas Season
Comfortable interior environment.
Getting into a space to see visibly dirty carpets can set you in a certain awkward state. If your carpets are dirty, you feel less at home. The condition of your Carpet is the key factor in your success as a host. Tidy-looking carpets can elevate the ambiance of a room. Apart from the walls, carpets are the most visible component of a home's interior. A carpet is always noticeable. Beautiful decor and furniture are great to have, but clean carpets are the welcome mats to everyone who visits your home.
Smoother cleanup process
No matter how careful you are, messes will happen during festive seasons, particularly if kids are part of the party. It will only make things more difficult if you don't clean curtains and carpets before all the guests arrive. Dirt and stains that were already present on the carpet fabric will get worse if left uncleaned for a long time. The dirt particles will further erode the carpet fibers.
If you want to start your holiday celebrations with a clean slate, clean carpets are the ideal way to start. Pre-cleaning will make Carpet cleaning post-Christmas much simpler and more affordable.
Sanitary space for unpacking gifts
Most kids, particularly during family holiday gatherings, settle down on the floor while unpacking presents. However, it is crucial to keep your floor clean and sanitary.
Indeed, you will not want to get embarrassed about your guests or family sitting down on the floor. Hire a carpet cleaning company, and you can stay relaxed for everything being cleaned appropriately before the holiday season arrives.
Give yourself a gift of a new house this Christmas by investing in Carpet cleaning Brantford before your guests start coming over. It will make you feel awesome as you notice a beautiful sanitary appearance in your home.
Carpet Cleaning DIY Tips During or Post Christmas Season
Steps to clean sauce stain
Sauces are sticky. However, be very careful when handling sticky stuff. Do not let it spread around.
Scoop up as much sauce as you can with the help of a spoon without pressing down too hard on the Carpet.
Apply a pre-treater pen on the stained area. But if the stain is on a dry-clean area that is washable, do not use the pre-treater pen. Follow these tips if you don't have the pen:

Dip a portion of a clean cloth into club soda.
Rub the cloth gently on the affected area.
If required, you can also use the dishwasher and cool water mixture.

Mix ¼ cup of rubbing alcohol and 1 teaspoon vinegar. Apply the mixture gently onto the stain. After 15 minutes, gently dry it with a clean cloth.
Let the mixture sit on the affected area for 10 minutes if the carpet material allows a machine wash.

Put it in the machine with the coldest setting.
Check the stained spot before putting it in the dryer. If it is not cleaned properly, repeat the steps until it is cleaned. And then put the Carpet in the dryer.
Steps to clean milk stains
Milk spills can quickly stink if they are not cleaned soon enough. Don't wait! Clean the spill immediately.
Try to soak up as much residue as possible by gently pressing down a clean cloth on the affected spot. Through this step, try to absorb as much liquid as possible. Never step up or walk on the milk stains; it is not the right way to soak the liquid. Continue pressing using as many pieces of cloth as required until they stop soaking up the liquid.
Put a handful of dishwasher liquid to the affected spot.
Take a new fresh piece of cloth and soak it in the warm water. Squeeze out the cloth and gently rub it over the affected spot. If required, repeat the steps a few more times.
If the milk spillage is on your upholstery, consider following these steps.

Put some baking soda or cornstarch on the stained area. Wait for 15 minutes and clean it with a vacuum.
You can also use a branded dry-cleaning solution to the affected spot. Leave it overnight, apply a little bit of water, and gently scrub the spot with a toothbrush.
Now wipe the area off with a clean, dry cloth until the stain completely disappears.
Steps to clean chocolate stains
Chances are always there that chocolate stains can appear out of the blue on your Carpet, particularly when kids are part of the festival celebration. But there are some DIY steps you can follow to remove chocolate stains.
Take a butter knife or a similar tool. Gently scrape off the maximum amount of chocolate from the Carpet. Make sure you don't spread it around or press it too hard into carpet fibers.
Dip a clean cloth in club soda and apply it gently to the stained spot.
Take another piece of clean cloth dipped in the mixture of warm water and laundry detergent or a dishwasher liquid. Rub the cloth gently on the stained spot and wait for an hour.
Take another clean cloth and soak it in cold water. Squeeze it properly and rub out the stain passing the cloth across the stained area.
Repeat the steps if required.
Steps to clean gravy or oil-based stains
Oil-based stains need to be dealt with promptly, even more than milk stains.
Dab the stained area gently with a paper towel. Repeat the step with more paper towels until you don't find any more stuff to soak.
Sprinkle some cornstarch or baby powder on the stained spot. After 10 minutes, remove the powder using a vacuum. Castile soap is also a good option if you don't have cornstarch or baby powder.

Cover the spot with castile soap.
Wash your hands properly and rub your fingers into the stain.
Let it rest for some time and step ahead to the next step.

If the stain doesn't disappear, spray the area with a good carpet cleaner. And, after ten minutes, wipe it gently with a paper towel.
Steps to clean candle wax stain
It is better to wait before doing anything with a candle wax stain. Let the wax dry.
Put some ice cubes in a plastic bag and place them onto the stained spot. You can also use an ice pack if you have one. Let the spot freeze completely.
Take a butter knife or some similar tool and scrape the spot gently.
Opt for a Professional Cleaning Up After the Christmas Holiday
A Professional carpet cleaning Brantford Company has the best ways, tools, and expertise to get rid of dirt, dander, and allergens, most importantly without using any harmful chemicals. Professional cleaners' precise training and knowledge will ensure your satisfaction and trust. The top priorities of professional carpet cleaning companies are the same as what we have: Safety, Natural, Non-Toxic, and Quick Drying. However, think about the "best carpet cleaning company near me" option and the earliest possible schedule for an appointment before it gets too late. Having experts to handle the issue will allow you to relax since you will save your time, additional $s, and most importantly, your house will look more pristine.